Introducing the latest round of product updates we have in store for you this month. We'd like to share these enhancements, carefully crafted by our team to improve your experience. We trust that you'll find these updates to be both beneficial and informative, equipping you with valuable resources to make the most of our product.
State-Specific Employee Agreements
Expanding your workforce should be an exciting step forward in your company's growth, and the onboarding process should not impede doing so. With that in mind, VirgilHR will provide a comprehensive onboarding module that addresses the often daunting hiring process, including real-time, prescriptive guidance in employee classification, worker authorization, restrictive covenants, and new hire documentation. As a prelude to this new functionality, we now have, for your immediate use, state-specific employee agreements to assist you in adding new employees to your team.
The employee agreements, presented in the form of ready-to-use offer letters, contain necessary provisions covering, for example, basic job information, compensation and benefits, "at-will" employment status, and pre-hire documentation/verification. Importantly, they also include restrictive covenant agreements containing non-compete, non-solicitation (employee and customer), and confidentiality clauses that conform to your jurisdiction's time, scope, and reasonableness requirements.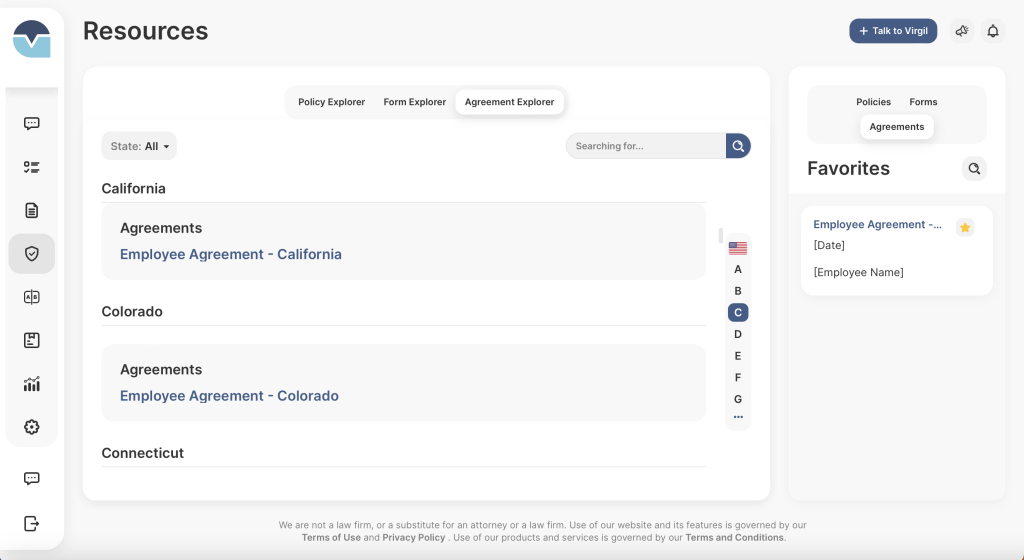 To find these employee agreements, visit the "Resources" section of our member page and click on the "Agreement Explorer" tab. From there, you will be able to search through the agreements and download those that are applicable to your organization. You can then add any employee-specific information (e.g., proposed salary) as needed.
As we look forward to rolling out our comprehensive onboarding module, we hope these employment agreements will help you develop new and successful employment relationships.
Contact an HR Expert
As an HR professional, you know that staying compliant with HR regulations is essential. But with so many laws and regulations to keep track of, it can be difficult to remain compliant. That's where our new "Contact an HR Expert" feature comes in.
With our new feature, you can easily connect with an HR expert who can help you with any HR compliance questions you have. Whether you're unsure about a new law, have a question related to the suggestion made by our Chatbot, or just want to get some general advice, our experts are here to help.
To use our "Contact an HR Expert" feature, simply visit our website and click on the icon in the bottom right corner. Select the item or category of concern and share your query. You will get a response in 1-2 business days.
Our "Contact an HR Expert" feature is a valuable resource for any HR professional who wants to stay compliant with HR regulations. With our help, you can be sure that your business is in compliance and that you're protecting your employers.